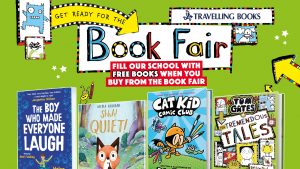 We are delighted to announce that we will be having a virtual book fair in our school on April 22nd.
Over the coming weeks all our teachers will be showing your child images of the books that will be available to purchase, talking to them a little about the books and encouraging them to read more at home.
As well as that a copy of each book will be sent to the school so that your child will get to look at the physical book before purchasing.
Reading is so important for children and their learning and has so many benefits some of which include strengthening the brain, building vocabulary, reducing stress, aiding a good nights sleep and increasing our knowledge.
The best news is that to enjoy these benefits you only need to read for as little as fifteen minutes a day.
Another benefit of this book fair is that for every book bought the school will be given a free book which will go towards upgrading our classroom libraries which will give your child access to fresh books in school.
Having looked at the books in school your child can tell you which ones they would like to have and if you are interested you will be able to order the books via phone.
More information on this process will be sent out over the coming weeks so for now you do not need to do anything.
If you would like to have a look at the titles that will be available before the book fair please click here
And, as always there is no obligation to buy.