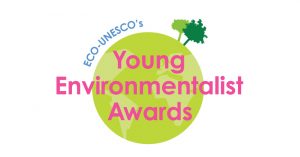 As you know our three Eco Unesco groups have got through to the national finals. The People's choice Award for the Young Environmentalist Awards is now open. Please vote by following this link https://www.yea.ie/blog/yea19-people-s-choice-award-vote-now.  Follow the  link through to vote for the projects. You can vote everyday. The groups with most votes will win this award. You will need the groups project numbers to vote.
Scroll down the page of projects. The project are listed numerical . Scroll down till you reach Save a bit Start to Switch, Cup Alert, or Wildflower Girls. Click through and type in their project number to vote.
To vote Save A Bit Start to Switch vote 2019 160
To vote Cup Alert  vote 2019 162
To vote Wildflower Girls vote 2019  163.
You can also vote by visiting their blogs and following the instructions on their blogs.
http://wildflowergirls.weebly.com/