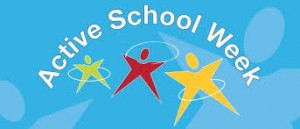 This week is Active School Week and there is a variety of events planned.
We will walk to school from Jordan's Carpark each morning, assembling at 8:50am. Parents, families and the wider community are welcome to join us!
On Monday we have our Sponsored Walk which was rescheduled form March. The money raised will be used for resources suggested by the Student Council so be generous please!
On Tuesday Rang 3-6 will experience Tug o' War – that should be fun!
On Wednesday Junior Infants – Rang 2 will have Hurling and GAA Skills.
On Thursday all classes will have a Yoga/Pilates Class given by a trained instructor.
On Friday Sineád Ronan, Mille's Mam will take all the Classes through a Fitness Training Circuit.
During the week each class will also be involved in othere activies which they have decided upon.
It should be a fun week that helps us to become more fit and active.