ASF
In June of 2014 we achieved the Active School Flag for St. Colmans by engaging in a number of processes to improve activity levels in our school.
The Active School Flag was launched by the Department of Education in 2009.
It is a non-competitive initiative which seeks to recognise schools (both primary and post primary) that strive to achieve a physically active and physically educated school community.
In order to be awarded the Active School Flag, schools must:
1. Commit to a process of self evaluation in terms of the PE programmes and physical opportunities that they offer
2. Plan and implement a series of changes that will enhance PE and extracurricular provision and promote physical activity
The initiative encourages a partnership approach. It empowers schools to become more proactive in approaching groups like National Governing Bodies (NGBs), Local Sports Partnerships (LSPs), the HSE, Education Centres and the Professional Development Service for Teachers (PDST) to help and support them to develop their PE programmes and to promote physical activity
Once awarded the Active School Flag remains valid for a period of three years.
We are currently seeking to renew our Active School Flag.
Active School Flag Student Committee 2017-2018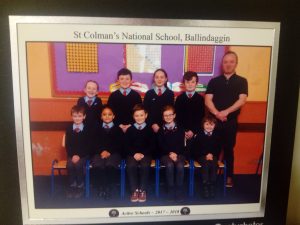 Physical Education 
#
St. Colmans Jan 2018 O&A PE Plan
Orienteering Obstacle Challenge
As part of our focus on the O&A strand of the Curriculum, 5th and 6th classes undertook an Orienteering Obstacle Challenge. They developed and demonstrated all the physical skills needed for orienteering: agility, balance, coordination (and sometimes speed) whilst holding and looking at the map!
Curriculum Focus:
January – March: The Fundamentals of Movement – focus on Walking
April – June: The Fundamentals of Movement – focus on Running
ASF Committee Planning Meeting
Active Flag Partnerships
Scoot to School Week
St. Colman's is currently participating in the Green School Scoot to School Initiative. As part of this drive, students from St. Colman's have been scooting to school all week. On Tuesday we were lucky enough to receive a visit from Aine, the Scoot to School Representative. Aine's visit was highly anticipated. During her visit students at all class levels received classroom instruction on how to safely enjoy scooting.
Aine spoke to the children about such as:
Why scooting can help lead to a greener environment
Safe start and stop
How to perform an emergency stop
How to ensure safe balancing
The health benefits of daily scooting
The students' knowledge was tested before any active scooter activity.
As part of the school visit, students of all classes received detailed practical instruction on scooter safety and handling.
Sinead Ronan Fitness Training
As part of our Active Flag Week 2018 in St. Colman's, we were delighted to welcome back Sinead Ronan to put our classes through their paces with the help of the Active School Committee. Due to the poor weather throughout the week Sinead conducted her fitness classes in the Hall. The children benefitted greatly from this activity, had a most enjoyable time and the teachers got some great lesson and activity ideas for the coming year!
Active School Sponsored Walk – Mórshiúl timpeall Baile an Daingin
As part of our Active Flag efforts St. Colman's organised a sponsored walk of 3KM around the village on March 15th. The entire student body was decked out in their finest St. Patrick's Day garb and brought plenty of colour and energy to the village on our walk.
Active Flag School Noticeboard relocated
Our Active Flag School Noticeboard has been relocated to the Reception area of the School so that all visitors to the School will be aware of our Active Flag initiatives…